Intro
Reading the threads on this forum I decided to share my journey with others too. Should add a bit of fun to the whole process. I have come and gone back to this game many times over the years and the one thing that remained the same is that I am still a noob, literally since 2005. However, that will change, from today (except for agility lol, probably always be a noob there...)!
I do have my one token 99, cooking. I achieved it in September 2020 cooking in the Rogues' Den whilst cooking Karambwan, so I am starting from somewhere, 1 down and 22 to go  
. I mainly enjoy playing this game afk, in the background whilst doing something else such as reading, watching, talking to my wife, etc and so I tend to not do things in the most efficient manner, such as tick manipulation. But the most important thing is that I enjoy the process, and that's why I made this thread.
Starting Point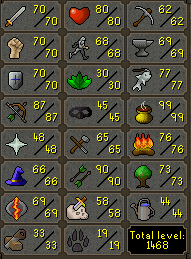 Currently, I am working on getting 99 Fletching. Will be fletching yew longbow (u) all the way to 99. Hoping to get it done by the end of this month as my next 99. I also work from home on certain days during the week so I afk NMZ and train range for pretty much the whole working day since it requires a few clicks every 5/10 mins. That might end up getting to 99 first but I won't be complaining.
Will carry on flipping daily whilst training since I will need it for the buyable 99s whilst also getting started with farm runs.

Ahiram




Posts

: 10


Reputation

: 1


Join date

: 2020-10-22








Damn, you have almost 70 rc already, that skill is so annoying.

Good luck and have fun with your goals and looking forward to your next posts.

EvanKHell







Posts

: 441


Reputation

: 75


Age

: 30


Join date

: 2020-09-10








Always nice with progress threads
Your start looks pretty good, I am also a subscriber to AFK NMZ Ranged training, it is such an easy way to get such a good skill up
Good luck on Fletching(or Ranged)
_________________

Purple Dude







Posts

: 1493


Reputation

: 100


Age

: 29


Join date

: 2015-08-01




Looking nice so far. Eager to see how you progress overtime. Best of luck on your journey :p

Riolu




Posts

: 58


Reputation

: 7


Age

: 25


Join date

: 2019-08-02




Similar topics
---
Permissions in this forum:
You
cannot
reply to topics in this forum