Welcome to the adventures of B1H
Who is B1H?
My name is Ryan, I'm 26 and live in the most beautiful country ever! Australia.

I've been around RuneScape for a while since around 03, having multiple accounts and playing on % off.
Outside of RuneScape I live a pretty busy life with work, spending time with my wife and other hobbies!
Current Stats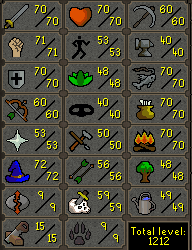 Short Term Goals
Agility 53/59
Construction 15/34
Crafting 50/70
Herblore 48/57
Hunter 9/60 (I'm really putting this off)
Mining 60/70 (Currently training this skill at MLM)
Prayer 53/70
Runecrafting 9/50 (I don't mind this skill, I will probably start it next)
Slayer 59/69 (This will be done last after a little bit of NMZ)
Smithing 40/75 (I'll use ores from mining)
Thieving 40/58
Woodcutting 48/71
Quest points 161/175
Quest cape
This is just a quick overview of what I'm trying to Achieve. Stay tuned for some long term skill/item goals and some bank pictures!
Small Achievements
Best herb run so far - this was off 5 patches. Not too sure what the record is off 5 patches.
B1H
Last edited by B1H on Tue Jun 06, 2017 5:00 am; edited 2 times in total

B1H




Posts

: 6


Reputation

: 0


Join date

: 2017-06-04




Good luck!

I will continue you watch as you update this!

GoatGoneWild

$50+ Donor





Posts

: 611


Reputation

: 28


Join date

: 2017-03-11




Looks very nice. Looking forward to seeing a lot of updates (and Screenshots)..
I need to make one of these too.

Last edited by Autocrat on Mon Jun 05, 2017 6:17 am; edited 1 time in total

Autocrat

Active Forum Member




Posts

: 1263


Reputation

: 67


Join date

: 2015-07-24








Nice stuff, should smash some of these goals! And good to see a fellow Aussie around these parts, there's not too many of us here


Hus

Active Forum Member




Posts

: 76


Reputation

: 1


Join date

: 2015-06-05




Good short term goals, looking forward to your progress ^_^


_________________

Kaninka

$20+ Donor





Posts

: 714


Reputation

: 26


Age

: 25


Join date

: 2015-08-01




Good luck, I guess we'll see you in the Aussie servers! (Oh wait...)
_________________

SwekSpek

$10+ Donor





Posts

: 469


Reputation

: 10


Age

: 23


Join date

: 2016-08-02




Good luck

_________________


Enty

Active Forum Member




Posts

: 743


Reputation

: 37


Age

: 25


Join date

: 2015-07-19





---
Permissions in this forum:
You
cannot
reply to topics in this forum