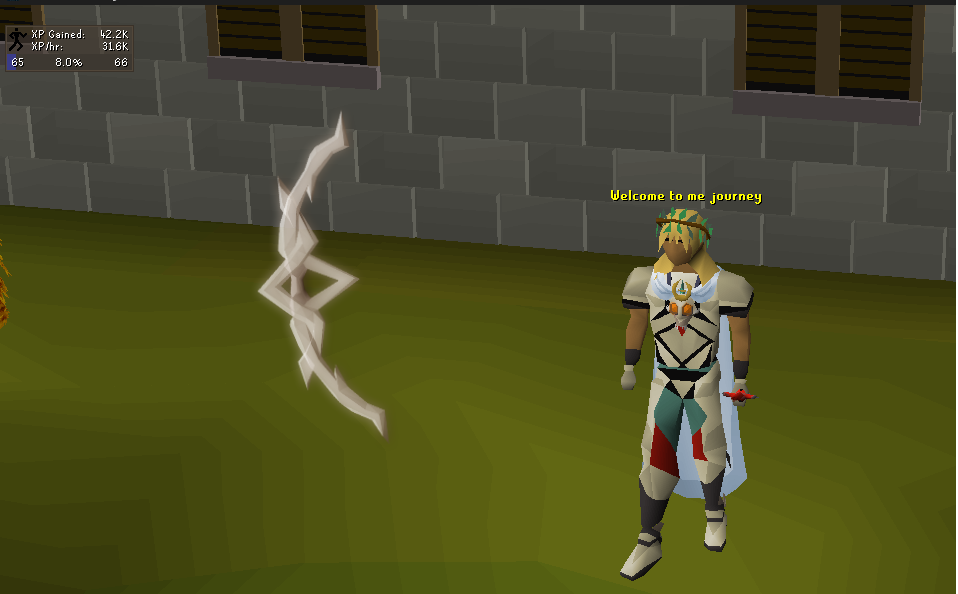 Welcome to my
ultimate quest adventure!
Range is my favourite combat skill; naturally I want to sport the best gear available. The tbow is an unrealistic goal right now, so I am aiming for the fbow. I tested it on a beta world and actually preferred it to the tbow because it's faster. The fbow is currently
164m
--yikes! (This is actually a considerable obstacle. Just two weeks ago it was 140m).
Now, to use this elegant weapon I need 70 agility and 75 ranged. The range I have, the agility I do not. Right now I am 65 agi.
Because training agi is tedious I am doing one level a day. I should reach 70 by the end of this week.
I have about 20m from selling blue hides, though this is too slow a method for the amount I need. Not exactly sure how I will make another 140m, lol, but here it goes!

Jack Halpert




Posts

: 20


Reputation

: 1


Join date

: 2021-08-03




Hey Jack! Did you manage to get 70 agility and the fbow? I really want 70 agility as well, I think i'm around 54 at the moment and still grinding grace marks for graceful

Mjr_Oc3lot




Posts

: 45


Reputation

: 0


Age

: 30


Join date

: 2021-08-03




I will have to update this thread drastically, because, as it turns out, 70 agility and 75 range are not the only requirements to wield (and use) the bow. One must also complete Song of the Elves to access crystal shards, which power the bow.

Unfortunately that quest has a ton of high requirements that I am very far from meeting. So I am sad to say I am very far from the bow ):!

Jack Halpert




Posts

: 20


Reputation

: 1


Join date

: 2021-08-03




Oh no
Keep us updated with how it's going. You got this!

Bunny







Posts

: 233


Reputation

: 51


Age

: 25


Join date

: 2020-03-01




Ah, I didn't know that either Jack! I'm very low for Song of the Elves as well, but don't worry mate, getting there is part of the fun as well you know! Checking out the requirements for SotE right now and you're right they're very high, but you have a goal and you can work towards that

Mjr_Oc3lot




Posts

: 45


Reputation

: 0


Age

: 30


Join date

: 2021-08-03




---
Permissions in this forum:
You
cannot
reply to topics in this forum