Hi ive been around a few days now and thought id say hi properly,
Ive been playing osrs since it dropped on mobile but more seriously since march, UK based and been enjoying the more chilled and mature atmosphere in the clan than the general chat, been good to get some help and offer some too.
Hoping to start some pvm soon but not sure where to start know i need to ramp up some skills first.
Mostly in game i enjoy questing and skilling and helping out where i can
added a pic of current skills (using osskills app) any advice on where to work on next would be awesome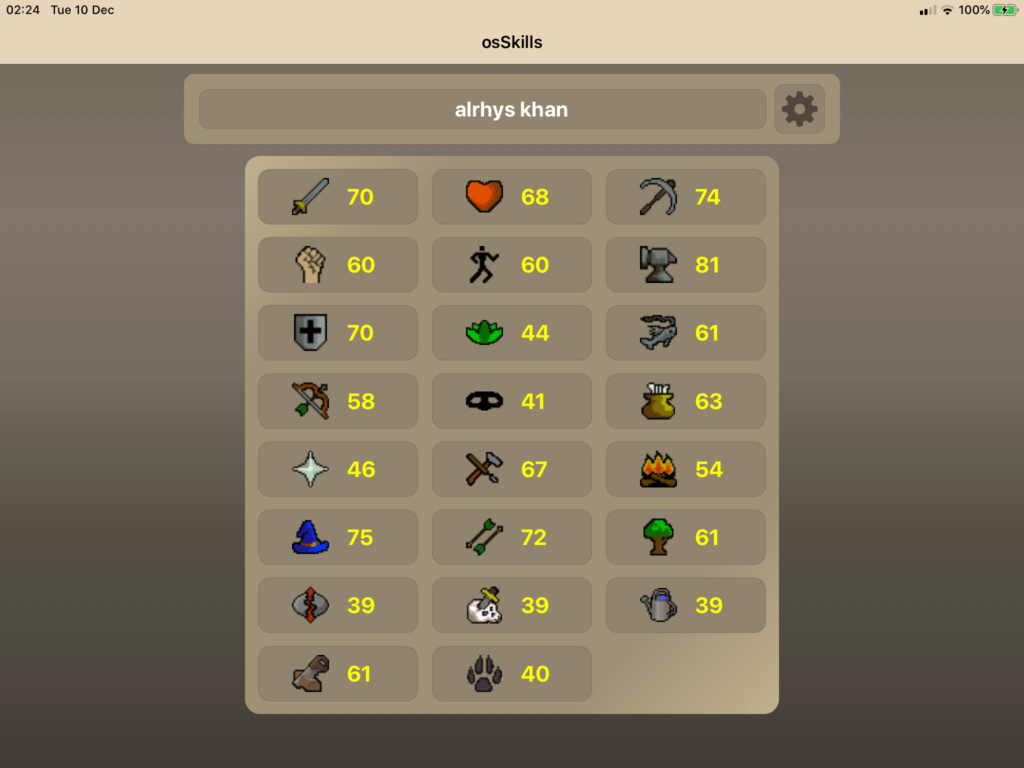 Alrhys Khan




Posts

: 4


Reputation

: 0


Join date

: 2019-12-09




Welcome to the offsite Alrhys! Great that you've joined us, definitely a super helpful community, I'd definitely recommend getting those combat stats up if you want to get into PVM, either through slayer or NMZ which I've heard is a pretty quick way to get cmb levels
If you are interested in getting a smiley rank in our clan chat make sure you post your rsn down in this thread:
https://www.osrsadvice.com/t3741-looking-for-a-smiley
We also offer an active discord if you use that?
If do you decide to join us, we have a
skill of the week comp
that we hold every second week and also a
clan lotto
each month, definitely check both of those out!
Atm we are holding a
Secret Santa
, feel free to join in if you like
Hope to catch you around in game and good luck with getting those levels up

Megnificent







Posts

: 499


Reputation

: 42


Join date

: 2019-07-04




Welcome to the clan chat lad, you're off to a great start, looks like c:

Catnaros







Posts

: 322


Reputation

: 32


Join date

: 2016-12-21




Welcome to the cc bud! Nice stats, you'll be high end content in no time

The_Gamed







Posts

: 532


Reputation

: 36


Join date

: 2018-10-30




Thank you all i look forward to working with you all


Alrhys Khan




Posts

: 4


Reputation

: 0


Join date

: 2019-12-09




---
Permissions in this forum:
You
cannot
reply to topics in this forum