This is a small guide put together by me using the methods I pursued to reach my goal for low level Player-Killing. I have ready many different guides, posts, forums and threads, all of them are effective but there is one guide that I haven't seen too much out there. This guide I am talking about is a 10 Def Pure using Magic/Maul, but my method is still different than most. Here I will explain what kind of build I chose to go for, I will also like to note that I am new to Pk and that this build was easy for me to achieve quickly, so that I could get out and have fun! I will make this short and sweet so that it is easy to follow and understand, I hope this helps you with your journey on making a new account for Pk!
Here are the levels and Quests that you will be aiming for to reach Level 50 Combat, which is your goal. This is so you get to see what you are working towards, and I assure you that its not too difficult! Do make sure that you do these quests as soon as you are able to, so that you do not pass our level goals. With that being said you are still more than welcome to freestyle it and do them in whichever order pleases you the most like I did.
Quest's that need to be complete...
______________
Biohazard Quest - Death Plateau - Horror from the Deep - Plague City - Waterfall Quest
Tree Gnome Village - Underground Pass

 -  (MiniQuest -  Alfred Grimhand's Barcrawl    
Skill Goal Levels...
______________
Attack - 50       |     Ranged - 25            
Strength - 50    |     Hitpoints - 49               
Defence - 10     |     Prayer - 28
Magic - 60        |     Agility - 35
Remember when I said I would make this short and sweet? Well here it is... If you don't have any starting cash then the cowhides are worth banking until you have enough money for runes, knifes and scimitars to get you going. I also chose ONE gathering method to use if I had zero gp and needed to earn it without earning HP experience after I already reached my goals. I will assume that you know how to scrounge up change like I did to make it through until you are at the last training area which is where you will make some good gp to start pking.
Train Att/Str/Def/Rng/Mgc to level 5 at chickens north of Lumbridge, then move right over to the cow pin and start training everything to level 20, DO NOT LEVEL DEFENCE PAST 10! Make sure to bury all bones if you want to because we are going for 28 prayer. Once you have trained everything BUT DEF to 20, we can move on to Hill Giants. Here is where we will train Ranged to 25 and prayer 28. You will obviously reach 25 Ranged first, once you do just switch to Mage or Melee and start training them until you reach 28 prayer by burying the big bone drops. Bank their drops if you really needs the GP, just make sure to bury those bones! Once you have reached 25 Range and 28 Prayer we can now move on to our last area of training! We are going to the Chaos Druids!! This is were we will be until we reach our goal, bank all of the Herbs excluding any of them that are worth less than 800 minimum. Before going to the Chaos druids I recommend looking through all of the quests and see if there are any you can do, and make sure that if you do head straight to the Chaos Druids, that you make sure that stop training so when you complete all of the quests you do not go past our goal levels! At any time before, during or after you should train agility to 35 using the rooftop courses, you'll thank me later for telling you to do it when you go for Underground Pass.
Alright now that you have completed all of the mentioned quests and reached our goal levels you should be at level 50 Combat.
This is the gear that you will be using to pk, I chose this setup to be cheap but reliable. It has high def and still does great damage. Half of the items are acquired from the quests we just completed. You should have made enough money to buy at least 3-4 full sets during your training at druids. Some are also safe even if skulled.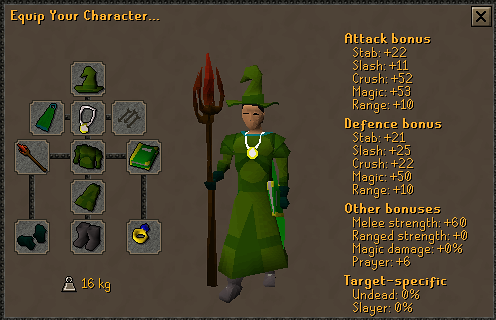 Helmet - Xerician
Top - Xerician
Bottom - Xerician
Gloves - Klanks Gauntlets *Safe
Boots - Climbing Boots *Safe
Necklace - Amulet of Power
Ring - Ring of Recoil
Cape - Guthix God Cape *Safe
Weapon - Iban's Staff (Using Iban's Blast to hit 25s) *Safe
Offhand - Book of Balance *Safe
Spec Weapon - Granite Maul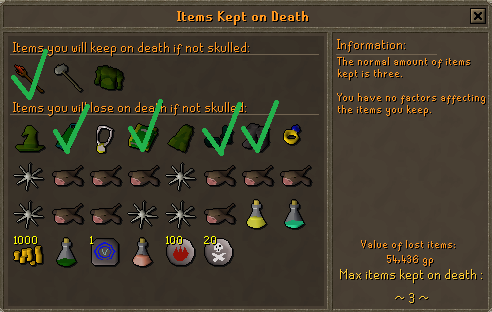 As you can see, besides the normal inventory items like food, runes and potions to sustain a fight, the cost of this build is quite affordable yet still very powerful. I hope you all enjoyed this short guide, now get out there and start Bounty Hunting! If I missed anything please feel free to leave a comment or pm me!

Sinzezime




Posts

: 40


Reputation

: 0


Age

: 27


Join date

: 2017-04-17








Looks like an easy account to make, do you get many fights though?

25 gp

Active Forum Member




Posts

: 58


Reputation

: 0


Join date

: 2017-05-22




I think it's an interesting build, but probably not as good as a build with ancients and slightly higher strength which you'll probably fight a lot of due to the level range in PK worlds.
I'd love to see a video of you doing your thing though, let me know if you upload one


_________________
The Tony Hawk of Segway

Lokandur

Active Forum Member




Posts

: 284


Reputation

: 10


Join date

: 2017-04-15




@Lokandur

wrote:I think it's an interesting build, but probably not as good as a build with ancients and slightly higher strength which you'll probably fight a lot of due to the level range in PK worlds.

I'd love to see a video of you doing your thing though, let me know if you upload one
Let us know if you upload one


God Bu Bu

Active Forum Member




Posts

: 151


Reputation

: 8


Join date

: 2016-06-11








Very interesting might look into for the future! Bookmarked


Robbot




Posts

: 17


Reputation

: 0


Join date

: 2017-05-02





---
Permissions in this forum:
You
cannot
reply to topics in this forum