What happens when someone that basically dislikes Bossing, but loves Grinding, becomes Maxed?
Well they eventually start missing the "easy goals" and the level up messages for one..
So I thought since it takes half a year to complete a goal on Kaninka... Why not try a new thing?
I am addicted to using Grand Exchange, and I suicide alot to get a quick teleport to Edgeville... so why not try to take those 2 things away?
Also Silver, sky blue and Purple are my fav colours, but Silver Dude was taken, and surprisingly Purple Dude was free

So this is my Progress thread of my Hardcore Ironman Purple Dude

I decided to create the thread 2 days after creating my account, this is the start of the thread: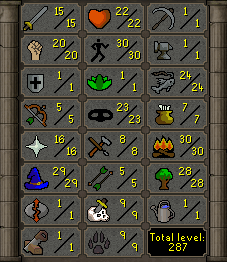 Summary how I ended up where I am at start:
1 ) Pickpocketing lvl 2 men & women (women are just as good as men as victims) until I could steal tea
2 ) Slaughtering some chickens for some basic Att/Str/HP/Pray/Cook
3 ) Do cooks assistant/sheep shearer/the basic ones
4 ) Travel to Varrock to steal tea so I got some basic food
5 ) Travel to Ardy with wild lever


to steal cakes as better food, meanwhile getting 10agi at Gnomes
6 ) While at Ardy get 30Fm/28Wc at the Monastary so I can get Beads from Imps at the same time, for Sea Slug Quest which gave me 1-24 Fish (and 14 Black beads, 8 yellow beads, 3 white beads and 1 red bead)
7 ) Venture to Draynor to get Chronicle and 20 Agi(while killing goblins) and start Rune Mysteries
8 ) Go to Varrock, get 30agi & Do natural history mini-event for 9hunt+slay, Continue to Stronghold of Security when HP became 15+
9 ) Use the 10k from Security to buy runes, then return and slaughter minotaurs in Security (for pure ess and magic xp and money)
10 ) Use the money earned from Minotaurs to buy better spell runes and camp Hill Giants until I can afford bow and arrows
11 ) Start on Ranged (Where I am now)


Last edited by Kaninka on Tue Aug 07, 2018 3:54 pm; edited 1 time in total
_________________

Kaninka

$20+ Donor





Posts

: 705


Reputation

: 26


Age

: 25


Join date

: 2015-08-01




Glad you decided to make another one of these. Will be looking forward to the updates


Autocrat

Active Forum Member




Posts

: 1201


Reputation

: 66


Join date

: 2015-07-24








Unlocked a new teleport

Now I just need some Law Runes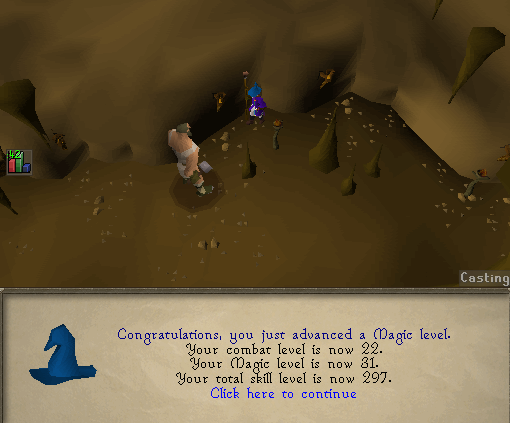 A little bit later: 300 Total


And finishing off with a small upgrade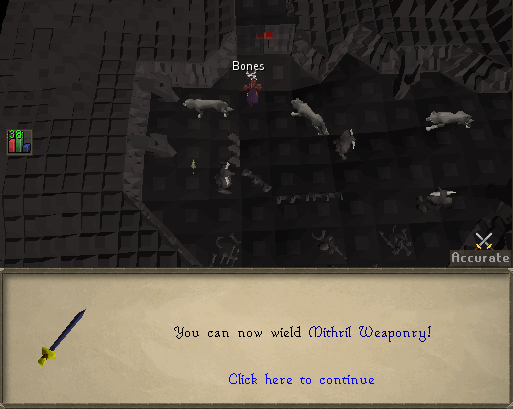 _________________

Kaninka

$20+ Donor





Posts

: 705


Reputation

: 26


Age

: 25


Join date

: 2015-08-01




Dear Purple Dude,

I hope you do not get max cape before I do, and if you do,  I hope your habit of suiciding to get back back to edgeville... well uhm.. kills you.

Sincerely,
Bu Bu

God Bu Bu

Active Forum Member




Posts

: 149


Reputation

: 8


Join date

: 2016-06-11









---
Permissions in this forum:
You
cannot
reply to topics in this forum