Hello everyone, in this guide I will explain how to do Wintertodt with 1 to 5 players doing the boss. This method involves the using of only one brazier throughout the duration of the boss in order to get a lot of points. The ideal amount of points for Wintertodt with this method is 13,000 of them. I will be talking through the perspective of doing the boss solo. (First guide, bear with me)
The first question everyone has is "What is the point of getting 13,000 points?" In this boss, getting 500 points for participation earns you a supply crate with three rolls of rewards. This is important because getting an additional 500 earns you another roll in the same crate. 13,000 points will earn you 27 rolls, or 27 rewards. Its a good way to get points without having to pray that you got enough for a crate. This is a great method for attempting to get the Phoenix pet, Tome of Fire, and with other great rewards, even though the boss' rewards got nerfed.
It is essential to wear warm clothing because the cold of Wintertodt can be very damaging. Gear like the fire cape and the Santa/Anti-Santa outfits will work to keep the cold out and your hp higher for a longer period of time. I have taken a picture of myself with some gear that you can use. Your inventory should consist of your Wintertodt tools, 10-12 Saradomin Brews, and 1 or 2 stamina potions for the running you will be doing. It does not matter if your combat stats get reduced by the Sara Brews, as there is no combat anyway. (Yes, this is surprisingly a legitimate gear setup)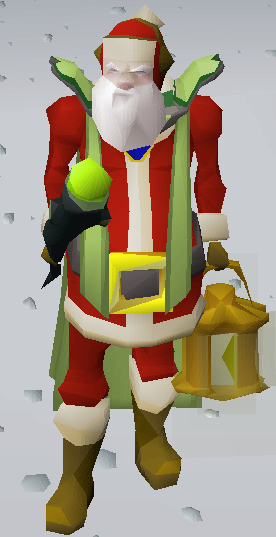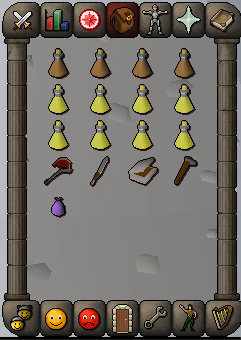 Wintertodt's health works on a percentage system. When it's percent is high, the damage is much more frequent and stronger. Because of this, the solo method starts off with getting the bosses health down to 10-15% as quickly as possible. To do this, run in a circular direction around the boss lighting the braziers and healing the pyromancers. This is where the stamina potions come in, as it is easy to run out of running energy doing this. When the bosses health is down to the desired percentage, it is time to settle in and start cutting logs to add to the one brazier that you are working with. It is best to work in the front of the arena as it keeps other players from entering unaware and start lighting unwanted braziers.
The most dangerous attack that Wintertodt has is a heavy snowfall, which can easily be avoided. You will know when it is by seeing a thick drizzle above your head or above the brazier. All you need to do is walk at least one square away from the area of effect, a 9x9 square. Paying attention to this will extend your trips since it will save you doses of Saradomin Brew. The ideal health percentage for Wintertodt is 5 to 15%. At this percent, the boss will be weak, but won't be in danger of being fully brought down to 0%, ending the round. A dangerous zone to be in is below 5% health, because one could accidentally kill the boss, meaning that they would have to start again.
The point of this method is to get a lot of points, but there are more ways to do that than by just lighting and stoking one fire. Repairing a broken brazier will give you a quick 25 points and healing a pyromancer will give you another 20. These actions add up pretty quickly, and there is no need to light the braziers that you don't need. A good time to do this is when the percentage of wintertodt is below 5% percent, giving you something to do while waiting for it to get back up to 10 or 15%. Another way to get more points is to fletch the logs you cut into kindling, giving you 25 points each instead of the normal 20, which is an extra 50 points every 10 logs for perspective. The only difference between playing with 1 player and with 3-5 is the amount of damage at once, making it more important to watch Wintertodt's health percentage bar.
Overall, the duration of this entire method should take no longer than an hour. It is a great way to get good resources, and of course, the Firemaking Skill Cape. I'll be able to answer more questions you all have in the comments below. Thank you for reading my guide and I hope it helps you out!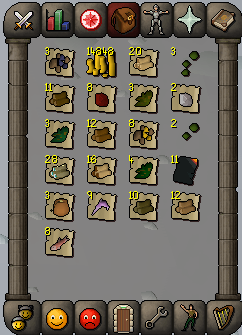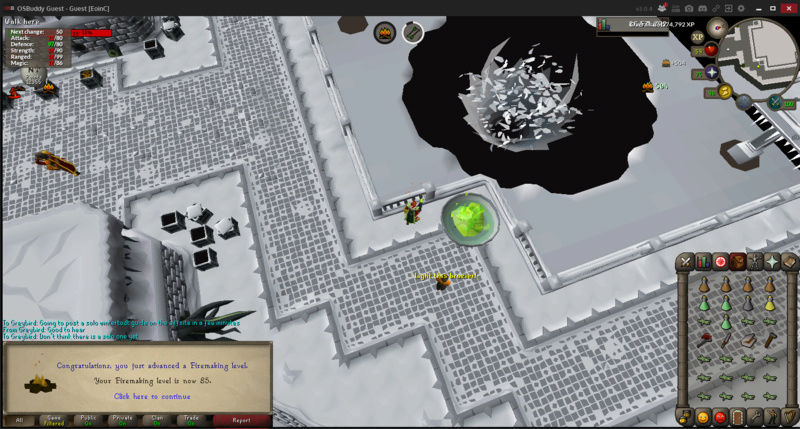 eoinc

Active Forum Member




Posts

: 133


Reputation

: 4


Age

: 22


Join date

: 2017-02-18




Very nice, thank you! Very well designed guide.
I've been doing this solo on my ironman and it is surprisingly easy once you get the technique down.
It can certainly be a little nerve-racking when you have it at 5% and need to end quickly because you have no food (and the brazier keeps breaking

).

Alpha Bar




Posts

: 38


Reputation

: 1


Join date

: 2016-06-21




What really scares me is that I will end up getting 13k points only to d/c.

Autocrat

Active Forum Member




Posts

: 1204


Reputation

: 66


Join date

: 2015-07-24








that would be very unfortunate


eoinc

Active Forum Member




Posts

: 133


Reputation

: 4


Age

: 22


Join date

: 2017-02-18




Thanks for this guide, I will give it a go! I've only ever done it on the wintertodt world before now, didn't realise about the points/extra rolls.

Happy-e




Posts

: 16


Reputation

: 0


Join date

: 2017-04-30





---
Permissions in this forum:
You
cannot
reply to topics in this forum