What guide would you like me to make next if any?
A good budget barrows guide in my opinion.
Hello there Guest, yes you, Guest, looking for a good budget barrows guide? Well you've certainly come to the right place! So, let's start with the basics...
BARROWS - A minigame where you dig into tombs and kill 6 brothers and 5 Skeletons and loot a chest for absolute bank
REQUIREMENTS - 43 Prayer, Priest in Peril, Ghost's Ahoy, 50+ Range, 50+ Magic, 50+ Melee. Obviously the higher you are the better
HOW TO GET THERE - To get there you can either use a Barrows Teleport tablet, the route through the Myreque shortcut, or the other route from Canafis shown in the image below: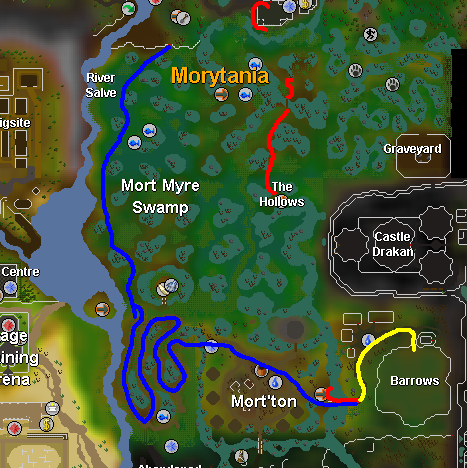 Gear of choice. The ones CAPITALISED are the ones that are EXPENSIVE BUT BEST.
Helm: Farseer (What I use) > Mystic
Amulet: FURY > Glory
Platebody: TORAGS > Rune > Proselyte (which gives you a very nice prayer bonus)
Platelegs: TORAGS > Rune > Proselyte (which gives you a very nice prayer bonus)
Boots: INFINITY > Dragon > Mystic
Gloves: Your best Recipe for Disaster gloves.
Shield: UNHOLY BOOK & Dragon Defender > Rune Defender
Cape: Skillcape(t) > God Cape > Ava's
Ring: Ring of Life & Ring of Duel in invent.
Arrow Slot - Holy Blessing and arrows.
Weapon (Magic): TRIDENT OF THE SEAS > Iban's Staff (u)
Weapon (Melee): Abyssal Whip > Dragon Scimitar (requires completion of Monkey Madness) + Dragon Dagger p++
Weapon (Range): Magic Shortbow & Arrows > Dorgeshuun Crossbow + Bone Bolts.
Inventory: 1x Spade, 4x Shark, 1x Ectophial, your cast runes if you are using Iban's (put it on autocast), your melee/range weapon (equip your magic), Spec Weapon (Dragon Dagger p++), Holy Wrench if you have it and arrows. Rest should be your barrows teleport tablets if you have it, your ring of duel (your ring of life should always be equipped except when teleporting), and the rest prayer pots (4) or (3) dose. This will last a fair few chests, I can do about 10 chests a run. P.S: If you forget your spade, there is a spawn in the shack next to the entrance.
The Guide:
My route. Some say to Ahrim first, but I do not. This is my personal order  

.
NOTE: Before I begin, be aware that ONE of these you will not be able to face, just walk up the stairs again if you get the interface saying if you want to go into the tomb. It randomises every time.
In order of whom to kill:
Brother > How they attack > What to Pray > What to use against them > Their "Special"
Dharok > Melee > Melee > Magic > Lower hp, higher hit (BEWARE)
Guthan > Melee > Melee > Magic > Getting hit has a chance of raising your HP
Karil > Range > Range > Melee/Range (Melee is better, but they are both useful) > Lowers Agility, that's it I believe.
Torag > Melee > Melee > Magic > Successful hits have a 25% chance of lowering your run energy.
Verac > Melee > Melee > Magic > HITS THROUGH PRAYER (BEWARE)
Ahrim > Magic > Magic > Range > Even if he hits a zero, which he should because of your prayer, your attack/strength will be lowered.
Once you have killed these. Well done! You would have encountered the message I mentioned within this. Before you go into that tunnel, go onto the surface, the longer you spend in the tunnel/tombs, the more your prayer gets drained if you haven't noticed

.
In there, you will have to try and get to the centre shown in the image below. You will automatically spawn in a "ladder room".
HINT: You can safespot a brother using the ladder you came from or an invisible ladder, they are still there in the other ladder rooms, even if you didn't come from it. You can also use the rocks in the "outer" parts of the tomb! Only applies for melee brothers.
The brother you haven't killed will spawn at any time.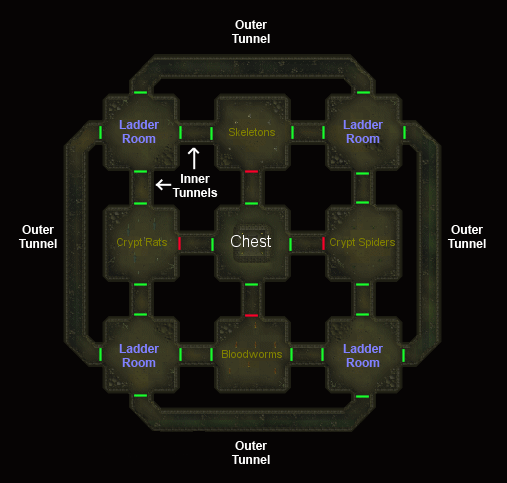 These are the puzzles you will encounter when you get to the chest room. You may remember I said about killing 5 Skeletons. You can do this, or 7 Bloodworms or 8 Crypt Rats. This gives you the best kill count possible (according to Mod Kieren). If you are unsure about remembering this, after an update there is now the the Reward Percentage, just getting this to 100% will insure that you have all brothers killed and enough monsters killed to get to the chest.
You can now try and find the centre (I don't have this, but OSBuddy PRO, you have to PAY FOR IT, gives you an actual minimap in the tomb). Go into the tomb and do all this. Kill the brother when he appears. GET READY FOR IT.
Loot the chest - if you haven't encountered the brother already, it WILL SPAWN WHEN YOU OPEN THE CHEST, kill them if you haven't already, loot the chest and teleport out and reset before the tomb collapses on you. Good luck!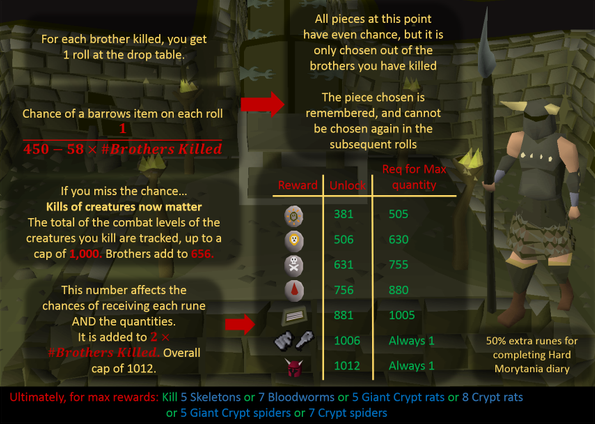 This is the loot table made by Mod Kieren.
I'm sorry this guide is so long, please understand it took me a long time to make, and my laptop shut on me halfway through so I had to restart  

. Anyway, you get used to barrows, it's easy in the end and cool. Good luck!
P.S: You make more money off runes than items!
~ Ninja (Feel free to PM me in game, in cc if I'm there, can't promise I will see it, or in the comments here if you have any questions or improvements. Thanks!
Last edited by Ninjaskillzc on Mon Sep 18, 2017 7:56 am; edited 7 times in total (Reason for editing : Updating)

Ninjaskillzc

Active Forum Member




Posts

: 117


Reputation

: 0


Join date

: 2016-05-03








Thank you so much what a lot of work! Its is 3amish and I have enjoyed your guide, I promise to read it again during the day after sleep. I've done barrows once many years ago. I got Guthans spear and helm. I never went back figured can't top that. I'd already bought all the barrows gear so here I am ironchick and wishing I had learned how to barrows before. Thanks again:)

Fe Faerie

Active Forum Member




Posts

: 263


Reputation

: 14


Join date

: 2016-07-09




Hey! Not a bad guide

I've never really done barrows persistently. Maybe after reading this I will

Thanks.

Autocrat

Active Forum Member




Posts

: 1204


Reputation

: 66


Join date

: 2015-07-24









Guest

Guest






---
Permissions in this forum:
You
cannot
reply to topics in this forum