Hey OSRS Advice, I've had a Notepad "To Do" list for my account for some time now, It has been really helpful in keeping me focused on the levels I need to grind, and the unlocks I should be working towards to hit my dream endgame account. I would love to add to the clan's discussion and share my progress and goals with you all.

Below is a list of unlocks I've previously achieved and will be working towards. I'll endeavour to keep this updated in case you fancy checking on my progress XD.

Bold - Short Term Goals
Strikethrough - Achieved
(Brackets) - Current Progress
Italics - My Current Restriction

Levels
Base 70's
1750 total
80 Attack
80 Strength
80 Defence
80 Range
85 Range (83)
85 Magic (80)
77 Prayer
75 Runecrafting (74)
74 Construction
85 Construction (76)
75 Slayer
77 Thieving
72 Mining

Account Unlocks
Dragon Defender
Lava Cape
Full Graceful
Rune Pouch
Xeric's Talisman
Slayer Helm
Coal Bag
Plank Sack
Full Void (Ranged)
Berserker Ring (i)
Prospectors Outfit

Elite Void (Ranged)- Learn Zulrah
Fighter Torso - Learn BA and find team
Carpenters Outfit
Raiments of the Eye (1/4)
Anglers Outfit (2/4)
Lumberjacks Outfit (1/4)
Pyromancer Robes (2/5)
Slayer Helm (i)
Imbued God Cape
Seed Box
Herb Sack

Hard Diarys
Ardougne
Desert (2/3)
Falador
Fremennik
Kandarin (1/3) - BA, if anyone wants to help.
Karamja (2/3)
Kourend
Lumbridge (2/3) - Bones to Peaches grind
Morytania
Varrock
Western Provinces (2/3)  - Learn Zulrah
Wilderness (1/3)

Remaining Quests
The Forsaken Tower
A Kingdom Divided
Sleeping Giants
Contact!
Beneath Cursed Sands
Making Friends With My Arm
A Night at the Theatre
Rag and Bone Man II
Monkey Madness II
Dragon Slayer II
Sins of the Father
Last edited by gfn on Mon Sep 12, 2022 10:23 am; edited 5 times in total

gfn




Posts

: 20


Reputation

: 4


Age

: 32


Join date

: 2022-08-24




Lots of great goals and achievements here! Looking forward to following the progress and best of luck!

U H TRED




Posts

: 93


Reputation

: 6


Age

: 36


Join date

: 2021-09-13




Cheers for that TRED, it was your post that inspired me to post here XD

gfn




Posts

: 20


Reputation

: 4


Age

: 32


Join date

: 2022-08-24




I feel like such a trendsetter. Lol, that's cool though. Glad it inspired you. I think it definitely helps to keep motivated for me at least if I put out there to others what I'm trying to do. Helps keep me honest by wanting to update the thread.

U H TRED




Posts

: 93


Reputation

: 6


Age

: 36


Join date

: 2021-09-13




Finally finished my Prospectors grind, I'm glad to see the back of this one. time to complete Fally Hard, as well as Frem Hard, as I finished my 77 thieving grind just before joining the clan XD

gfn




Posts

: 20


Reputation

: 4


Age

: 32


Join date

: 2022-08-24




Falador and Fremennik Hard Diaries are now completed, I also finished Contact! finally, which got me wondering why I put that one off for so long. This opens up Desert Diary 3, and another box is ticked for TOA. I gave Giant Mole 20 kills to try out my shield, and found it pretty relaxed, the money seemed good but I was going through Prayer points hard with my low accuracy, ill pass on a grind here for now.

On Giant Mole, I finished 80 Defence making is nice and round with Attack, Strength will be following soon XD. I feel Radas Blessing 3 would be nice to have soon, so Kourend Hard Diary 3 is on my radar as well, I only have one house left to tackle.

gfn




Posts

: 20


Reputation

: 4


Age

: 32


Join date

: 2022-08-24




Wow lots of stuff. Do you use Runelite?

U H TRED




Posts

: 93


Reputation

: 6


Age

: 36


Join date

: 2021-09-13




Oh yeah, the plugins make a huge difference.

gfn




Posts

: 20


Reputation

: 4


Age

: 32


Join date

: 2022-08-24




You know you can add screenshots from the client to the forums directly right? Help spruce this up a bit

U H TRED




Posts

: 93


Reputation

: 6


Age

: 36


Join date

: 2021-09-13




@U H TRED - I would rather this be an update and discussion type thread, then an archive of my level up screenshots, I have those locally anyway
PROGRESS UPDATE
Its been a while since the last update, longer then i originally planned when creating this thread, life has taken over a bit with summer holidays & returning to work, however it all seems to be calming down a bit. During this period I focused mainly on things that wouldn't burn me out, things I can focus on casually again, so my goals have been around these farms;
Herb, Tree, Hespori, Kingdom and Birdhouse Runs
- When I'm unsure on how much time I will have to play, without further thought, I jump on these. This doesn't take me much time or effort for the XP and money profits, and on busy days, can be all I do on my account. My goal here is to passively work towards my house spirit tree mainly through Yew Trees, but with the other runs funding that so I'm not in the negative. I do this a few times a day at most, but I'm not as religious as others. I've managed to gain 4 levels passively this way during the last period.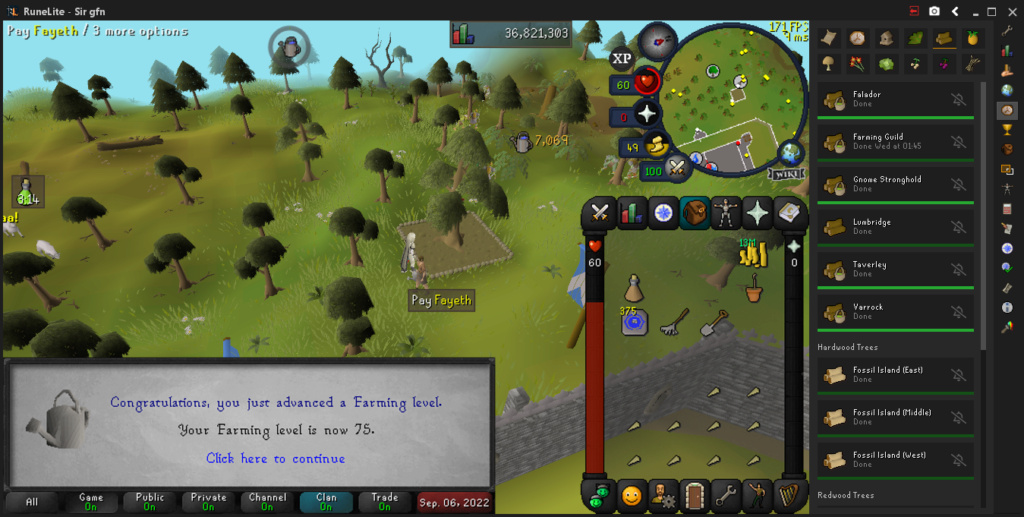 Guardians of the Rift
- RC'ing has been, in my head, my perfect first 99. Its a skill not many people like so it has that alt appeal to me, but makes good amount of money. However the abyss running got to me, and i was without a way forward, finding Ourania running just as dull. Since the GotR update, I've really enjoyed this content and have made it a goal to unlock full Raiments, Lantern and Needle (and maybe pet, but thats not up to me). This fills in gaps where I know I have 30mins, but often, if I know I have more time, other larger tasks have taken priority, such as diaries or quests
Slayer
- I do enjoy Slayer, I feel killing things off quest or task doesn't feel right, so Slayer gets a lot of focus and i'm at the point that I can do majority of the tasks Semi-AFK, I have gotten a few interesting tasks that have made me look into other more advance task options, such as trying Rex on a Dag task, and finally completing Sins of the Father so I can do Vyrewatch Sentinels on a vampire task, this provided to be very lucrative, resulting in a Blood Shard on KC89 of my first task XD, I try to do this in the background of playing WoW or watching a new TV show, however I hope to move more into bossing and hard mobs and reap those rewards too!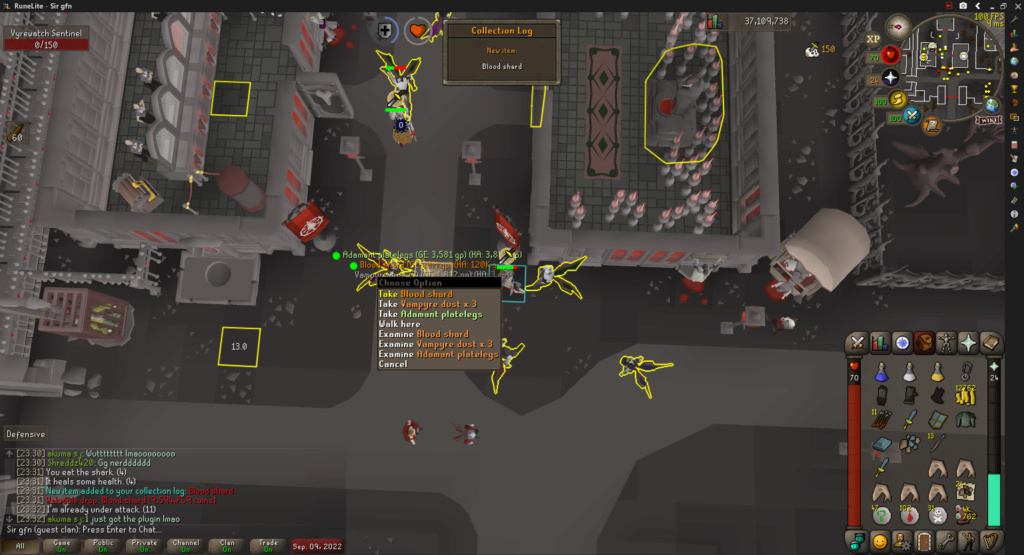 Questing
- Following the success of completing Sins of the Fathers, I felt motivated to complete A Kingdom Divided for some more unlocks, so i finished grinding Lovakengj favour (MLM flashbacks but now with farts) and The Forsaken tower, which I actually thoroughly enjoyed as a quest (I'm a sucker for a good puzzle). Finally completed Zeah the Mini-quest and then A Kingdom Divided, which I also really enjoyed the writing of.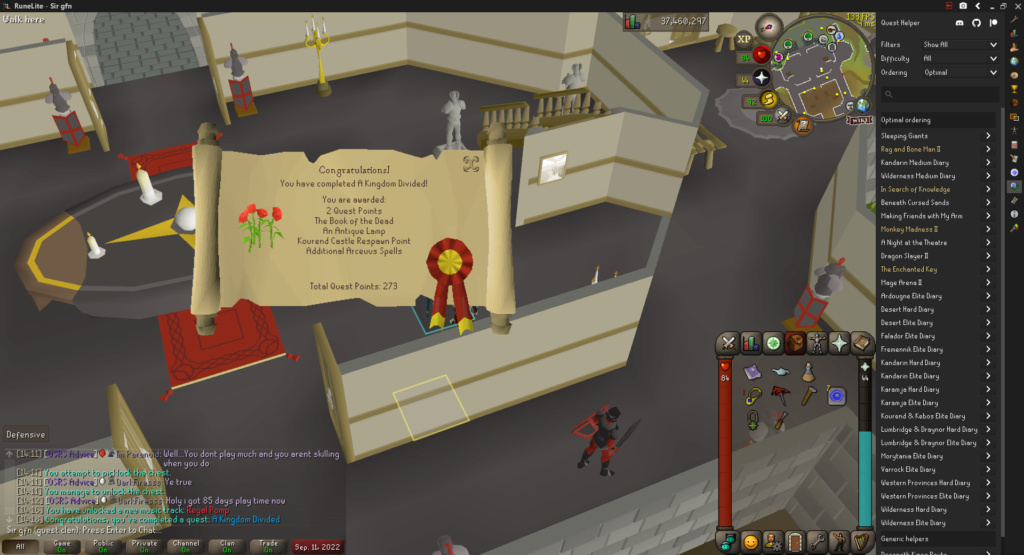 Hard Diaries
- During my larger gaps of time, I knocked out a few more diaries. Varrock Hard was completed, I feel like I got very unlucky with the skull sceptre grind taking over an hour, albeit it was easy, I didn't expect it to take that long at 3am in the morning. Frem Hard was sitting there with no reason not to be done, so I completed that too, which will be useful for when i complete Making Friends with my Arm for another efficient herb patch, Also Tan leather is a nice to have in case I want to look at crafting again. Kourend Diary was another goal I wanted ticked off, finally getting that Rada's Blessing 3, Thralls and the Ash Sanctifier unlocked.
Construction
- A "complete" PoH is also a dream of mine, so all lamps have been put into this as to save money where I can, I've managed to grow a level and a half using lamps from Diary's and quests recently, so that's a plus. I plan to passively run Mahog Homes to grind this up, however I haven't really found the time amongst my other goals. Either way, I upgraded my portal nexus to gilded, mounted a Digsite neckless and Xeric's Talisman with my new cash, saving some swapping and inventory slots for my runs.
Splashing
- Following my cash injection through Slayer, I finally have excess funds to work on my Magic level which looks so poor against the rest of my 80 combat skills, so this is currently what I'm doing whilst working (W373 Burgh - if you come say Hi you will be a forever friend).
Misc
Other things I have touched on are Fossil Crabs for Ranging, Polli rooftop course for Agility and Ardy Knights for Thieving, but they didn't see much attention in the last few weeks.
Next Goals
Further Leveling - Unsure which ones to focus so I will likely passively go through them to avoid burn out, Magic seems like the default for whilst I'm working atm via splashing, so this will likely get the most attention, after that i hope its Construction, but its likely going to be Farming.
Further Diaries - West Provinces Hard: Its time to try Zulrah again and finally show that this snake is not better then me.
Further Quests - Dragon Slayer 2: This is one of my last unlocks on my radar, a good few items open up to me following this completion, I hope to have some time for this next weekend.
If you have managed to get this far and you are still reading, thank you, honestly! having people to share this with makes a huge difference for me, and even more so if you take the time to read it. I would love to hear any feedback on the post or my progress. Cheers

gfn




Posts

: 20


Reputation

: 4


Age

: 32


Join date

: 2022-08-24




Good idea to use the lamps on construction if you don't mind training agility or runecrafting. Saves a lot of GP! Farming should always be the next skill to train, just my opinion
.
Dragon Slayer 2 is a fun quest, and that's not something i say very often. Look forward to seeing what else is coming soon for your account!

U H TRED




Posts

: 93


Reputation

: 6


Age

: 36


Join date

: 2021-09-13




---
Permissions in this forum:
You
cannot
reply to topics in this forum