So im sure those who have played ironman and even those who haven't probably have some things they learned, be it full on strategies or just little tips
Could anyone share any ironman advice, be they little things, or big ones for progressing towards major goals, be it farming efficiency tips, lesser known methods for obtaining things, any kind of major advice, as one day i'm going to max this thing and i find myself unsure of what direction i want to head right now specifically any advice geared towards going past 50+ in skills such as construction
Mostly right now im unsure what stage i should get to before i start doing bosses such as dagannoth kings, or what kind of order i should aim for gear in


nemesis2020




Posts

: 19


Reputation

: 1


Join date

: 2016-06-24




Well your iron stats are better than mine, so this is advice from the experience of someone that has tried maxing and is currently working on an iron

The MOST important thing for me, on both accounts have always been to focus on the enjoyment. How stupid it may sound, you need to enjoy the progress and methods you choose to do. And everyone is different when it comes to enjoyment, some find joy in being completely efficient-wise driven. Others drift around jumping from thing to thing and eventually end up maxed(Im one of those).
Once you have figured out how you get the most enjoyment, you can start looking at goals. I see that patience is no issue for you since you already got 99 Firemaking and Thieving

What I would do, is train all your combat through
Slayer
, Slayer is fun and the monster unlocks are extremely worth it for Irons especially

Try to make
Birdhouses
a natural part of your gameplay, if you use Runelite, it can inform you when they are ready to be done, in your lvl it is around 4000 Hunter XP per hour for 2min worth of effort

It adds up!
Since you are 83 Farming, I assume you already do Farming Contracts, but if you don't, then do them

Colpo made a good guide on farming contracts, you can find it
HERE CLICK ME
Other things:
- Have Kingdom Management constantly running with 10 workers on Herbs and 5 on Maples
- Farm Giant Seaweed for when you eventually plan to grind Crafting, better to have it for later than start later

- Try to set few goals, not too many, better to delete goals and add new ones than to just keep adding them, it can lead to indecision and bank standing

- Bosses will come naturally once your Slayer is high, because then your combat stats will also naturally be high



That was all I had for now



_________________

Purple Dude

$20+ Donor





Posts

: 772


Reputation

: 27


Age

: 26


Join date

: 2015-08-01




Thanks,  ive already got quite a bit of prep done, up to 1300 birdhouses and 3.5k giant seaweed, though kingdom was on 10 maples 5 herbs i wasn't sure what is effective for kingdom. Trying to make sure there aren't any passive or not so obvious things i'm missing, theres just so many things to aim for, construction for all its utility, herb for staminas and whatnot, ranger boots, dks rings, barrows gear, dragon pickaxe, its all just so overwhelming xD
I spent the entire day getting this lot together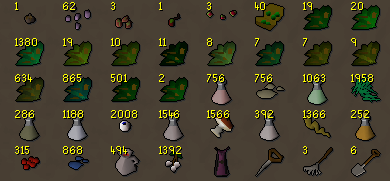 nemesis2020




Posts

: 19


Reputation

: 1


Join date

: 2016-06-24





---
Permissions in this forum:
You
cannot
reply to topics in this forum