Recently I have been struggling to find a way to gain a large number of points in a short amount of time at the Nightmare Zone.  After about a days worth of experimenting, I have found a solution that suits my personal needs and will hopefully help others as well.  My best dream took about 1 hour and 30 minutes, and I left with 1,050,000 points.  There was a conversation in the cc about this, so I figured what good topic for my first post!
My combat stats are not the best, sitting at the following.
79 Hitpoints
78 Attack
78 Strength
71 Defense
76 Ranged
70 Prayer
75 Magic
I never thought I would reach over 1 million points in a single dream with these stats, but sure enough I proved myself wrong.
Below is the gear I used. If you can upgrade it, then certainly do so. If Dharok's is unavailable to you, use your best melee gear.
Below is the inventory I used. It will make more sense after I explain why I brought seemingly random items.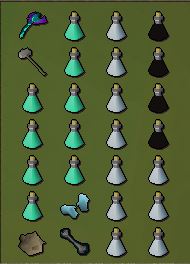 I felt this was a good balance between all the potions, and will last around 1 hour and 20 minutes due to the amount of overloads.  The blow pipe and ice gloves are for Kamil and Fareed respectively. When you get a Kamil spawn, turn on Protect from Mage so he teleports to you and then use your blow pipe to quickly kill him.  When you get a Fareed spawn, put on your ice gloves so he cannot unequip your weapon.  Lastly when you get a Damis spawn, do not kill him unless you are okay to have your prayer drained by his second form. Personally, I wait for an Ultimate Power to spawn to kill him.  These are three of the Desert Treasure bosses, which leads me into my final topic, the boss selection.
Listed top to bottom are the bosses I found are most suitable for me while doing a Customisable Hard Rumble Dream.


Count Draynor

King Roald

The Kendal

Me

Moss Giant

Treus Dayth

Skeleton Hellhound

Tree Spirit

Khazard Warlord

Arrg

Black Knight Titan

Bouncer

Black Demon

Desert Treasure Bosses

Nezikchened

Giant Scarab

Jungle Demon

Dream Mentor Bosses

The more bosses you can comfortably kill, the more points each boss will be worth.  I also found it is very important to have both the Desert Treasure and Dream Mentor bosses selected to maximize your total points.  I am writing this short guide with the assumption that the rock cake/overload method is understood, along with other methods used in NMZ.
If there are any questions or concerns, please do reach out to me however you need to!  Also, please do add anything to this post since I am still learning myself and this being my first post.  I appreciate those who took the time to read or add to the topic.  I do want to say thank you to Nahyuta for inspiring this post!
See you all in game!
~Honey

HoneydewDev




Posts

: 4


Reputation

: 0


Age

: 21


Join date

: 2018-10-14




Thanks a lot for the mention and taking the time to help not only me, but the rest of the community aswell!

brianM




Posts

: 11


Reputation

: 0


Join date

: 2018-10-15




Of course! Hopefully you and everyone else can take something positive away from it.

HoneydewDev




Posts

: 4


Reputation

: 0


Age

: 21


Join date

: 2018-10-14




Good guide, Honeydew! I personally hate that we're practically required to have the Desert Treasure bosses in there for max points, Kamil and Fareed are such a pain. Easily managed, sure, but annoying nonetheless.

_________________
AKA Viking Bear
AKA Bear Fur
AKA Rivet City
AKA Three Dog


Bear

Insane Donor





Posts

: 1386


Reputation

: 83


Age

: 26


Join date

: 2017-04-18





papasmurfio




Posts

: 26


Reputation

: 0


Age

: 21


Join date

: 2018-09-08




@brianM

wrote:Thanks a lot for the mention and taking the time to help not only me, but the rest of the community aswell!
Exactly, I love when someone sharing own experience.
Good guide

A little more detailed guide is here https://mmoauctions.com/news/osrs-nightmare-zone-guide No problem

Last edited by TronMMO on Fri Aug 16, 2019 12:16 am; edited 1 time in total

TronMMO




Posts

: 6


Reputation

: 0


Age

: 28


Join date

: 2019-08-02




thats a very good guide

good job!
with my set up I use full proselyte, 99 prayer, prayer pots and hammer away with either the granite maul or dragon bludgeon, I try to use items and equipment thats going to prolong my prayer points so naturally lasting out the longest for XP and levels. Definitely going to try this method though.
thank you


Riisa

Active Forum Member




Posts

: 159


Reputation

: 17


Age

: 25


Join date

: 2019-07-19





---
Permissions in this forum:
You
cannot
reply to topics in this forum