So you want to know how to build a home for those cute little birds?
Rig a trap inside it?
Kill them?
Loot their homes once they're dead?
Me too...
I'll start by saying this is, by no means, a skilling guide. This is a guide on how to set yourself up doing Birdhouse Runs on Fossil Island. There is some free effortless hunter exp in it for you though but it is slow so it's not gonna get you to 99 Hunter any time soon.
What do I need before I start?
4 Clockworks. ever. That's all you'll ever need for this.
5 Crafting levels in order to construct the birdhouses. Depending on the birdhouse you want to use, you may wish to increase this in the future.
100 Varrock Museum Kudos points - This guide will help you earn 78 of these through quests and minigames. The other 22 points can come from various quests.
The Mini-game:
In the basement of the Museum you'll find a character called Orlando Smith, speak to him to begin this mini-game/quest. He'll ask you to go between all the exhibits on the floor and answer questions about them. If you have Runelite, all the correct answers will be highlighted, I'm unsure if OSB has this functionality but either way there's no penalty for wrong answers. Once all exhibits on the floor have been visited go back and speak to Orlando for your reward.
Not only does this reward 28 Kudos Points but it will give you 1000 exp in both Slayer and (more importantly) Hunter
Head up-stairs and begin cleaning finds (see the Finds section of Kudos)
stick at this until you get a
clean necklace
, take it to the archaeologist in order to learn how to make The
Digsite Pendant
.
After this point casting a level 3 enchant on a Ruby Necklace will reward you with a Digsite Pendant. Alternatively if you lack the magic level you can buy the enchant tabs and necklaces from the GE.
Do yourself a favor at this point, make a Digsite Pendant, it's really useful and cheap to make and getting one sooner rather than later will make getting around much easier.
The Quests 5pts each:
Demon Slayer
Rune Mysteries
Shield of Arrav
A Tail of Two Cats
Hazeel Cult
In Aid of the Myreque
Making History
Merlin's Crystal
Observatory Quest
Priest in Peril
Temple of Ikov
The Grand Tree
What Lies Below
All these quests offer 5 kudos points each, after completion of five quests speak to Historian Minas to have them counted.
Completion of the quests: The Dig Site & Bone Voyage
Once all that is said and done, you'll find yourself on Fossil Island, good job. Now this is where the fun begins. Follow the red line I've drawn on this map, stopping and using the mushroom trees along the way, these are important teleports for later.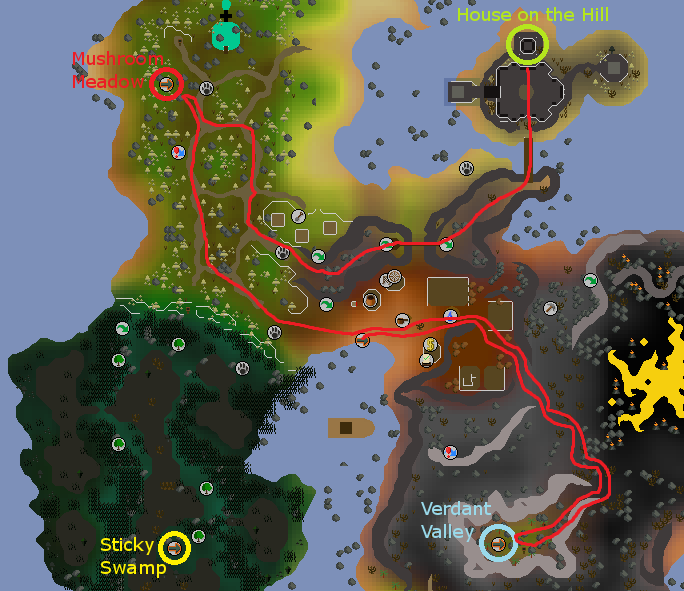 Once you reach the end of the red line and find yourself at "House on the Hill" go ahead and use your digsite pendant on this machine.
This now allows you to use the Digsite Pendant to teleport right to Fossil Island and right next to the mushroom teleport system.
Head on back to Varrock and grab some supplies. Your first run with 5 crafting and 5 hunter is going to seem a little lack luster but don't worry. It gets better!
Head up to the Grand Exchange and do a little shopping,
40 hops seeds per run, every run. (I use barley)
1 Digsite Pendant (An Enchanted Ruby Necklace)
1 Teleport for once you're done (I use Varrock)
1 Pestle and Mortar (for crushing the nests)
1 Chisel and Hammer (for making the birdhouses)
4 Logs (depending on your skill)
4 Clockwork (you'll never have to buy these again)
This is roughly what your inventory should look like heading out.
Lets do our first run!
Once that's all in your inventory you'll want to head to Fossil island by rubbing your Digsite Pendant and selecting Fossil Island.
You'll find yourself in the House on the Hill, head north and click on the Magic Mushtree.
You'll be presented with this pop up menu that only has three teleports available. These are the only ones you'll need for Birdhouse runs.
Select number 2 "Verdant Valley"
And this is where you will pop out. Now you'll want to use your clockwork on a log. This will give you a small amount of crafting exp as well as the all important birdhouse.
You'll note that in the above image there's holes in the ground surrounded by small stones. This is where you will want to click 'use' on your birdhouse and then click on these holes. Your character will then construct the birdhouse in this space. Congrats, you placed your first birdhouse trap!
Rinse and repeat for the other hole in this valley.
Now, arguably the most forgettable bit of the whole run:
USE THE SEEDS ON THE PLACED BIRDHOUSE
Now head back to the Magic Mushtree and select option 4 'Mushroom Meadow'
This one's a little ways north but looks exactly the same as the others, use your birdhouse on the hole and use your seeds on the placed birdhouse.
Then you're going to want to head south, following the path until you meet a wall and some spinning snake things. Joking aside as a HCIM I would avoid the swamp (south of this point). It's not needed for birdhouse runs and is pretty deadly.
Once again, use your birdhouse on the hole, use seed on the placed birdhouse.
Then you're done! At least for 50 or so minutes, right click on your birdhouse and click the 'empty' option. This will destroy the old birdhouse, refund your clockwork and place any nests and feathers in your inventory. Then you just use the clockwork on the new logs you brought with you and do it all again.
Important to also note that after you empty the nests of seeds and jewelry use the Pestle and Mortar on the nests to crush them. They sell for a little more.
Anyway, thank you for reading my first guide. Criticism is always welcome so long as it's constructive and I hope I helped people who are always asking in CC about birdhouse runs.
Last edited by Dandaren94 on Tue Jul 31, 2018 1:12 pm; edited 1 time in total

Dandaren94




Posts

: 6


Reputation

: 2


Age

: 24


Join date

: 2018-07-21




I'll post some of my birdhouse run earnings here with their contents.

Teak Birdhouses:
1)
5 Nests
1 Apple Tree Seed
1 Willow Tree Seed
1 Banana Tree Seed
1 Gold Ring
190 Feathers
Total: 15,214gp

2)

Dandaren94




Posts

: 6


Reputation

: 2


Age

: 24


Join date

: 2018-07-21




Wow, very nice guide! Formatting & detail looks great. We actually already had a birdhouse guide on here but 2 are better than 1!

Love the humour in the intro

Bing

Active Forum Member




Posts

: 929


Reputation

: 38


Age

: 25


Join date

: 2017-11-13




Didn't notice there was already one here! My bad!


Dandaren94




Posts

: 6


Reputation

: 2


Age

: 24


Join date

: 2018-07-21




Great guide Dandaren!

A suggestion at first glance,

Possibly include a caution about going into the Sticky Swamp. That is an especially dangerous area for lower levels and HCIM.

Again, great work!!

Edit: Removed a suggestion, because you already covered it, I just missed it.

greggo

Active Forum Member




Posts

: 94


Reputation

: 11


Age

: 26


Join date

: 2018-05-25




very nice guide, well done, anything that encourages others to benefit from what could be a 'well kept secret' and make gains with a few minutes spent a day has got to be great.
I wanted spirit tree seeds for my poh, and these nests have given me a few already, as well as some really high end ones for farming, at 2 mins a run whenever you have a break in play its a real benefit.

ladybird2

Active Forum Member




Posts

: 1626


Reputation

: 84


Join date

: 2015-06-08








Just recently read this over and gave it a try, very thorough and well detailed! Great job =]

The_Gamed

Active Forum Member




Posts

: 123


Reputation

: 2


Join date

: 2018-10-30




Awesome guide! I am coming back to OSRS after a while off and fossil island is all new to me. This totally got me into regular birdhouse runs just like my daily farm runs!



Vexer07




Posts

: 3


Reputation

: 0


Join date

: 2019-01-07





---
Permissions in this forum:
You
cannot
reply to topics in this forum