Hey everyone, welcome to one of my quick guides. This one is about Sulliuscep Mushroom cutting. These are a great way to train woodcutting actively, and a nice way to get the coveted fossil island fossils.
Gear; While cutting the mushrooms are easy, getting from one to the other is pretty dangerous. There are mud monsters and attacking poisonous spine mushrooms that can come out of nowhere and attack you. It will be best to bring health regenerating items and a shield like a dfs, since you'll want to wear your lumberjack gear wherever you can. Here is a picture of my gear and inventory. Don't forget your rake and your antipoison! HP cape can be replaced or supplemented with a regen bracelet or the dream spell.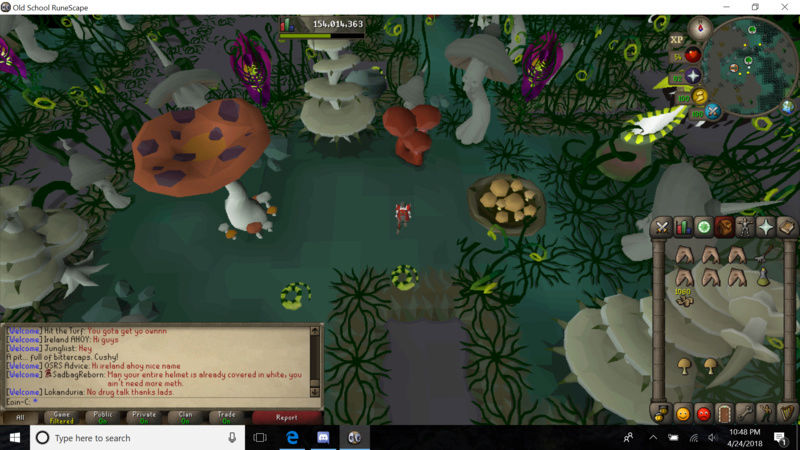 Mud Chucker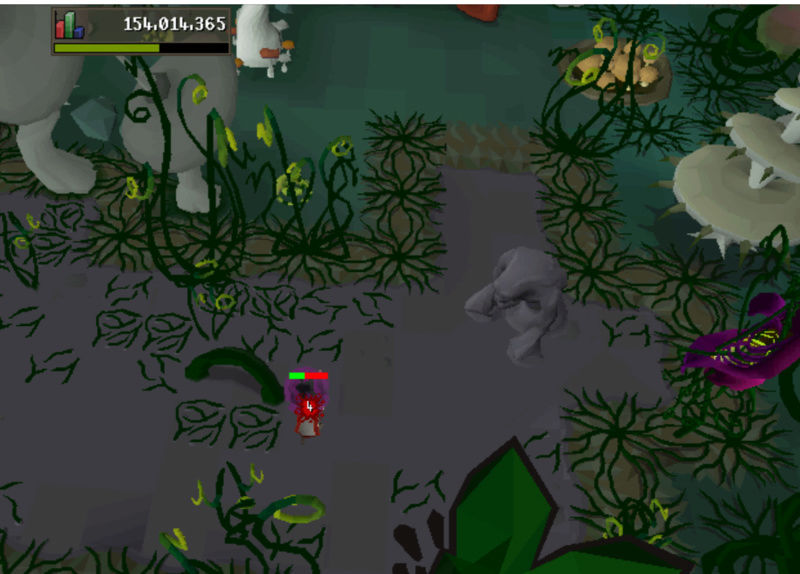 Method; it is very easy to get the hang of the path for sculliscep mushrooms. It follows the same path every time. There are 6 mushrooms on the path, but there is only one up at a time. However, as soon as one is cut down, the very next one will pop up ready to be cut. I have outlined the path here. there are some vines and roots that you'll have to either chop down or rake through, hence the rake.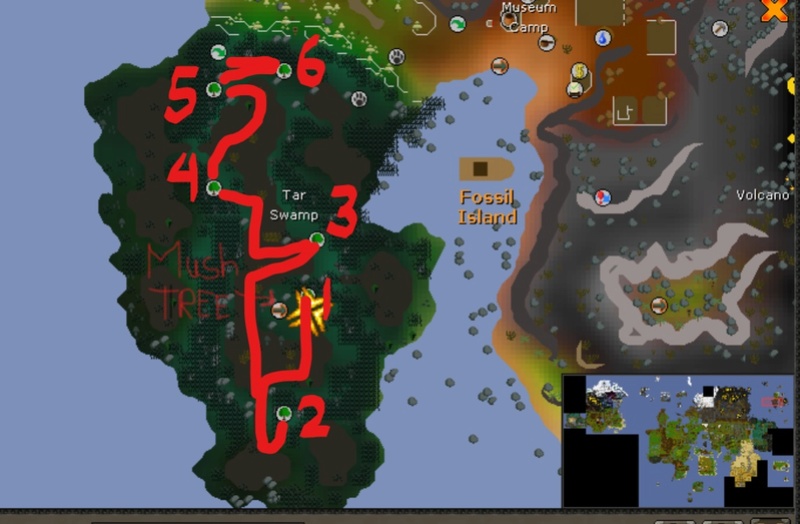 The method for cutting the mushrooms is really just chop and drop. There's no need to keep the mushrooms since they are of little value, unless you're an ironman that wants to make mushroom pies. HOWEVER, you must keep 9 basic mushrooms before you are done with the route, because it allows you to use the bouncing mushroom without any damage. This mushroom will quickly get you to the start of the route by the magic mushtree for the sticky swamp. I personally just tanked the damage the first time I got to the mushtree, dealt 40 damage but didn't have to do that on purpose again. You must have the mushrooms down before you use the jump, because they go away after you land, so plan accordingly!
Bouncy Mushroom
Splat
Restock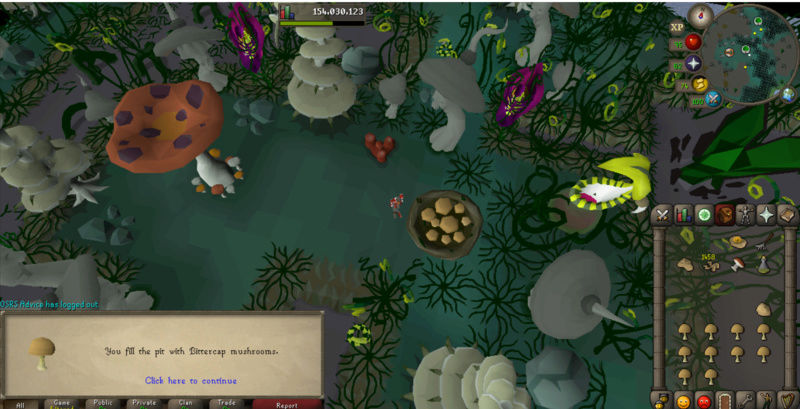 Collection of fossils exclusively from cutting these mushrooms.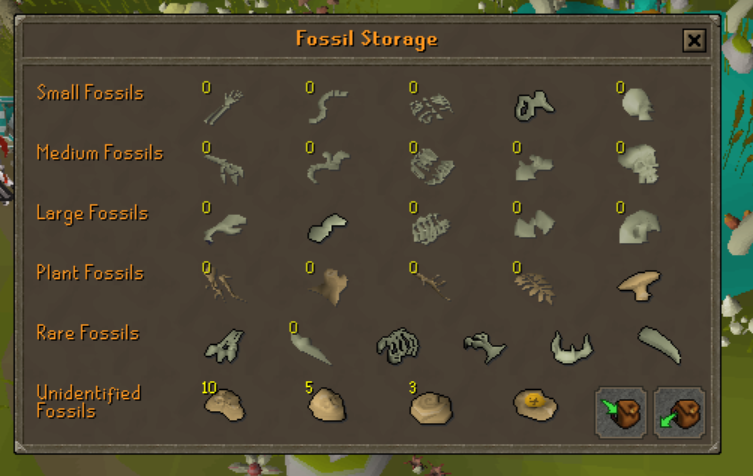 That's the end of this guide. I hope you're blessed by rngesus with lovely fossil sets!

eoinc

Active Forum Member




Posts

: 292


Reputation

: 9


Age

: 23


Join date

: 2017-02-18




Another fossil island guide!? Do you live there or something

Herbiboars next?
Nice guide, I'll definitely use this if i decide to try them out. Well planned guide and nice pictures.
_________________

Moon Light

$20+ Donor





Posts

: 1656


Reputation

: 90


Join date

: 2016-01-12









Autocrat

Active Forum Member




Posts

: 1342


Reputation

: 67


Join date

: 2015-07-24








Very nice guide, I may just give it a go. I'm certainly enjoying birdhouses a lot since you demystified them. Thanks Oink

ladybird2

Active Forum Member




Posts

: 1377


Reputation

: 48


Join date

: 2015-06-08








Another informative guide by Eoin


Bing

Active Forum Member




Posts

: 718


Reputation

: 30


Age

: 25


Join date

: 2017-11-13




Good guide! Was easy to follow/understand. Sorry it took me so long to finally get around to it


GoatGoneWild

$50+ Donor





Posts

: 673


Reputation

: 28


Join date

: 2017-03-11




Ahh very nice, very useful. Thanks Eoin, I'll get to make use of these one day.

_________________
AKA Viking Bear
AKA Bear Fur
AKA Rivet City
AKA Three Dog


The Bear

Insane Donor





Posts

: 1059


Reputation

: 79


Age

: 26


Join date

: 2017-04-18




you are becomming our official fossil island guide maker

nice guide tho, i might do them for the fossils.

Iwan

Active Forum Member




Posts

: 397


Reputation

: 2


Join date

: 2017-09-15




Nice guide - I'm trying it out right now!


Hardcore Eve




Posts

: 11


Reputation

: 0


Join date

: 2017-08-06




If you bring a druidic pouch you can use the mort myre mushrooms to fill it, rather than have to drop them.
_________________

King_Axolotl

Active Forum Member




Posts

: 132


Reputation

: 1


Join date

: 2016-04-12









---
Permissions in this forum:
You
cannot
reply to topics in this forum