Though I'd like to make a moneymaking guide

Disclaimer:
I have made the most money from Runecrafting, it is really awesome money, but I do understand most find that incredibly boring, so I will not be focusing on Runecrafting at all.
Also these money makers are the ones I use as damage control since I like to train skills fast, and if you want fast, you gotta pay usually.
I usually stay wealthy enough to afford expensive habits, because I do these things.
Again, this is my money makers, I personally use them, and recommend them

Farming:
I don't need much detail here, since I made a Herb run guide for Farming, and used myself as an example,
Click here to see it
I don't farm alot to be honest.. I prepare an inventory before I'm about to log off for the day, like this: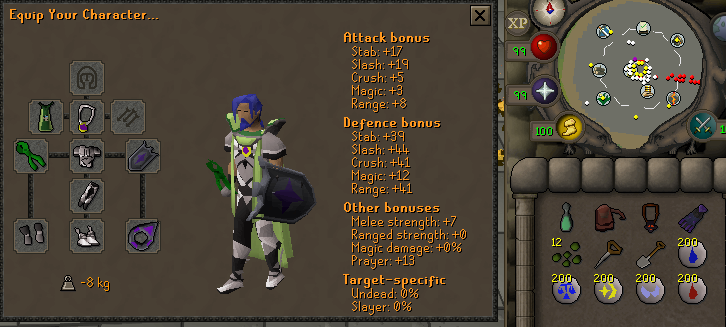 I then do a farm run, and make Trollheim my last stop, when that patch is farmed, I log off.
And whenever I login next time, I do the farm run a 2nd time, starting at Trollheim where I logged.
On average this brings in 90 or so herbs for the 2 runs, which is a 195k profit. Do this each time you play, and it grows over time

Like 10 days is 2mil.
Clues:
I personally LOVE clues, it is my favourite thing to do in Runescape, and I have earned a good amount on it.
I have a clue tab with uniques and rune alone, which is a good 70mil. Which is more than most people have in their entire bank.
And that is not counting all the junk that adds up over time. In my estimate, I have probably earned a good 150mil on clues alone, and I have not even gotten ranger boots yet

Barrows:
My 2nd most favourite thing to do, besides clues.
I started Barrows when I would make the most from it, so I with great effort, avoided doing Barrows at all until Morytania hard diary was done..
To take an example:
Since chest 420 where I got guthans spear, I decided to start on getting all items from scratch and collect everything else too.
I am now at 100 chests later, and this is how the money looks: (+7 Elite clues)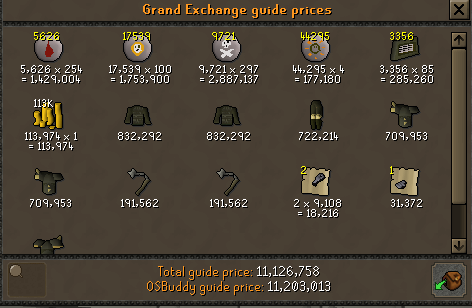 I take like approx 12 chests per hour, 15 if I'm good, so lets just say 13 on average. That gives me an hour profit of 1.5mil, assuming my luck is continous, and that's not counting the elite clue loot.
Brewing:
Saved this one for last

With the addition of Master clues, I realized how good brewing can be.
So I started doing it, and have been turning in some good profit.
In theory, by sharing this with you, I will earn less because more are doing it, but eh.. it is still money made with almost no effort.
Basically what I do:
My goal is to make Greenman's ale (m). Aka the item Falo the Bard wants and the item that boosts Herblore.
It is not 100% guaranteed that you get a mature ale, but the chance is increased if you got "The Stuff" bought for 50 pieces of eight, from Trouble Brewing.
And you get 100 pieces of eight, by filling 100 buckets of water. Takes you like 5min, and then you just afk the rest of the 15min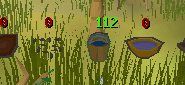 This makes it so you can buy 2 of The Stuff. Which is perfect, since there are 2 places to brew, Keldagrim and Port Phasmatys.
This is what my inventory looks like while making it, the items are in order of how I use them, except the herbs.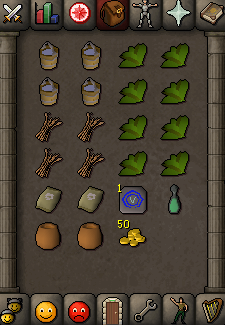 Basically what you do:
First buy 2 pot of ale yeast from this guy for 50gp: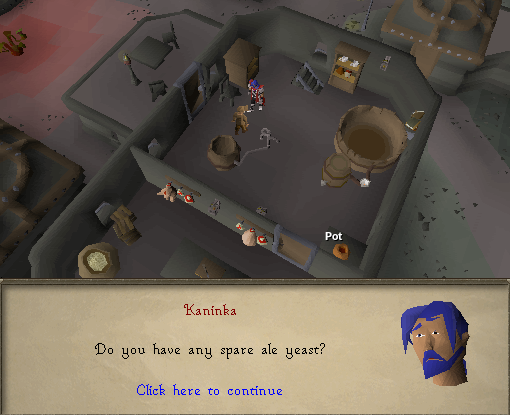 Then put this in the Brewer:
2 Buckets of water
2 Barley malt
1 The Stuff
4 Clean harralander
1 Pot of ale yeast
Do this both places. AND THATS IT.
It takes anywhere from 12 hours to 4 days to ferment, and you don't have to do anything. So very easy money maker if you want to do the preparation

You get 8 beers per brewery
Oh yeh, you need to see proof it is good money, silly me

I did two rounds in a week or so, and experimented a bit on the prices etc.
I started with 24 (since one of them failed sadly), and managed to sell 4 of them for 200k each.
And the rest were sold for 130k each, sometimes you are lucky with people being desperate, and sometimes you gotta lower the price


So in total on these 2 rounds, I earned 3.4mil.
The cost: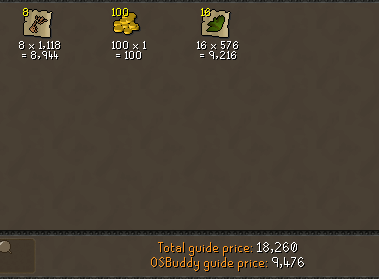 10k cost for 3.4mil profit and 25min of preparation? I am fine with that honestly

Other moneymakers I didn't bother to write about:
Skilling
Slayer

_________________

Kaninka

$20+ Donor





Posts

: 705


Reputation

: 26


Age

: 25


Join date

: 2015-08-01




Thanks for sharing these tips. And the last bit is definitely exciting

Layout of the guide is nice and easy to understand. Also the screenshots help.


Autocrat

Active Forum Member




Posts

: 1204


Reputation

: 66


Join date

: 2015-07-24








Thanks for sharing this! Will defo try out brewing at some point.

1250




Posts

: 34


Reputation

: 0


Join date

: 2016-07-03




Thanks for the guide Kan! No ranger boots though



ImUnderUrBed




Posts

: 42


Reputation

: 0


Age

: 20


Join date

: 2016-06-03




Didnt know brewing could be that profitable!

might give it a go when im bored someday
_________________
Osrs Advice Event Coordinator

BitBug

Active Forum Member




Posts

: 268


Reputation

: 7


Age

: 22


Join date

: 2015-03-13




What gear do you recommend for Barrows?

Soul Dog




Posts

: 9


Reputation

: 0


Join date

: 2017-02-04




Damn didn't even know about brewing, still profitable?
_________________

11 Eleven

$20+ Donor





Posts

: 283


Reputation

: 12


Join date

: 2016-12-16




Eleven 11 wrote:Damn didn't even know about brewing, still profitable?
If you do brewing atm, you really need "The Stuff" from Trouble Brewing, otherwise it sucks.
At the moment greenmals ale is less good, but chefs deligt is better atm, one mature glass is around 65k, and you get 4 glasses per brewing place. Assuming it becomes mature. Otherwise non-mature is 5k each.
For chefs delight you need 2 water, 2 barley malt, The Stuff, 4 chocolate dust and 1 yeast. So same as guide just with chocolate instead of herbs


_________________

Kaninka

$20+ Donor





Posts

: 705


Reputation

: 26


Age

: 25


Join date

: 2015-08-01





NobleFox

Active Forum Member




Posts

: 52


Reputation

: 0


Age

: 28


Join date

: 2016-08-09





Guest

Guest






---
Permissions in this forum:
You
cannot
reply to topics in this forum