+5
Purple Dude
Paper Heart
Rinrus
Tuck
Advice Bot
9 posters
Page 2 of 2 •
1, 2
That 99 rc goal is looking mean af :p

gratz on the nice gorilla lootsies
_________________

BitBug







Posts

: 288


Reputation

: 9


Age

: 26


Join date

: 2015-03-13




i've achieved a few more things lately which i'm rather proud of! i've acquired 100m total exp and 1900 total levels.
https://i.gyazo.com/dc4f3ba00ed748674ca9156c329711be.png
I've also been able to do some more bossing (like corp) and been lucky enough to be in team when this baby dropped
https://i.gyazo.com/93813000103506af906d689fad731860.png
after that i've not really had any drops other than a zspear duo.
after all this I do need to get back on the grind and go get 2k total, so i'm going to be doin lava rcing till 82 and then get myself some astral money! i'll try and post again once i've reached that stage.
Thank you for reading this and I hope to see you all in the cc!

Rinrus




Posts

: 66


Reputation

: 0


Age

: 25


Join date

: 2016-01-16




I've been slaving away for a while and I thought i'd make another post about my updates etc
So first of all i've finally got 100m total exp and 1900 total level, kinda proud of it however now the real grind begins. 2k total!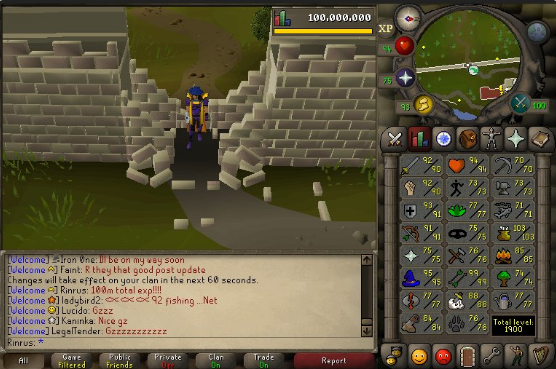 I've also been doing some pvm lately, like corp and on my 2nd trip legal got this beauty!

so yeah about 20m split not going to complain about that!
and now for my next goals, I'm going for 82 rc w/ lavas and then make some steady money w/ double astrals.
Thanks for reading and hope to see you all in cc

Rinrus




Posts

: 66


Reputation

: 0


Age

: 25


Join date

: 2016-01-16




Nice
I got 1900 totall myself this week
And gratz on that sigil! very juicy
_________________

BitBug







Posts

: 288


Reputation

: 9


Age

: 26


Join date

: 2015-03-13




Page 2 of 2 •
1, 2
---
Permissions in this forum:
You
cannot
reply to topics in this forum