Hey guys,
so I've been wanting to make this thread for quite a while now. A few days ago I got the necessary impetus to finally do it:
So as the title suggests, my goal is the diary cape. Basically this means that pretty much all of my game time will focus on knocking out the skill requirements for the elite diaries. Upon reaching a required level I will no longer focus on that particular skill (except runecrafting, as that's my main money-making skill). Originally I planned to not use skill boosts, but this proved to be so tedious that I decided to waive that self-imposed requirement  

As this is a rather long-term goal, I will be posting my gains along the way in this thread. Things I'm looking forward to: the slayer grind, maybe the agility grind (wth is wrong with me). Things I'm not looking forward to: fishing grind (blerggh), burning my bank to get the buyables.
Current status (23 Dec 2016):
Ardougne: Hard
Desert: Hard
Falador: Elite
Fremennik: Hard
Kandarin: Hard
Karamja: Elite
Lumby & Draynor: Elite
Morytania: Hard
Varrock: Elite
Western Provinces: None
Wilderness: None
By the way, any help with gwd bosses/wildy bosses/dks is greatly appreciated, since I have never done those. Feel free to post below if you want to help, and I'll give you a shout in-game

Any advice pertaining to the mentioned bosses is also more than welcome. Much obliged. -Mokkou
Last edited by Mokkou on Thu Dec 22, 2016 6:33 pm; edited 3 times in total

Mokkou




Posts

: 11


Points

: 902


Reputation

: 0


Join date

: 2016-04-01




Congratulations on the first of many Elites

Good luck with the gains, you can do it!


_________________


Kaninka

$20+ Donor





Posts

: 551


Points

: 6657


Reputation

: 21


Age

: 23


Join date

: 2015-08-01




Good luck on the grind! You can always pm me for those bosses, I also have to do them for my diaries!

SwekSpek

$10+ Donor





Posts

: 193


Points

: 1321


Reputation

: 6


Age

: 21


Join date

: 2016-08-02




@Mokkou

wrote:maybe the agility grind (wth is wrong with me).
Hey J ordon hows it going
Good luck!

Ninjaskillzc

Active Forum Member




Posts

: 54


Points

: 439


Reputation

: 1


Join date

: 2016-05-03








Right, it's been almost a month now and time to update the thread. After the Falador elite I went for Lumby & Draynor elite.
So I've had 86 smithing banked for quite some time now, around 35k gold ores.
Spoiler:
The thing is, I'm not sure if this is the end of the grind. From 86 I could boost to all the elite smithing requirements, but there are several (Varrock, Ardy, Kandarin, Wildy) and that could prove tiresome. So I might get 89 at some point. After smithing, blackjacking a couple of thieving levels wasn't too bad.
Spoiler:
So here we go, another elite knocked off the list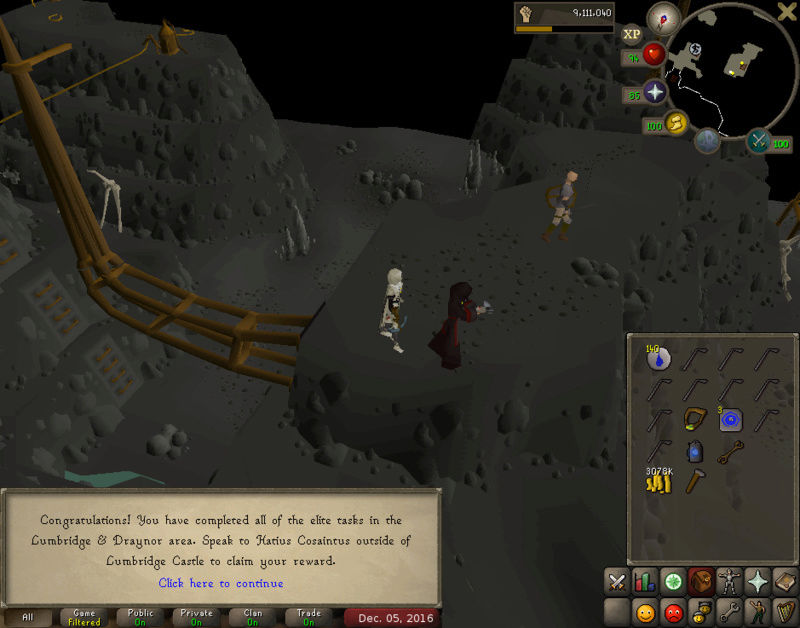 I was wondering which one to do next and I realized that the only thing I needed to do the Karamja elite was the herblore level. So I coughed up some money and got 78-83 herb.
Spoiler:
And here we have it

Also got a nice level off the exp lamp. Now I have all the required levels for Fremmy elite.
Spoiler:
In other news, the mining grind is nearing its end (at least for now).
Spoiler:
My next big goal is the Ardougne elite. The agility grind is coming along slowly but surely. The requirement is at least 85, but I might get 86 for the KQ shortcut, since I need the get KQ head eventually anyway. (
19 Dec 2016 edit: the KQ lair agility shortcut requires the completion of elite desert diary in addition to 86 agility
)
Spoiler:
Wish I could say the same about fishing though

I tried 3 ticking for a bit, but it really might not be my thing.
Spoiler:
All in all, the stats are starting to look pretty decent. If I do say so myself.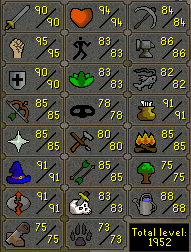 Until next time!
Last edited by Mokkou on Mon Dec 19, 2016 2:40 pm; edited 1 time in total

Mokkou




Posts

: 11


Points

: 902


Reputation

: 0


Join date

: 2016-04-01




Wow that looks very nice

And Gz on your progress.

Autocrat

Active Forum Member




Posts

: 81


Points

: 1444


Reputation

: 5


Age

: 22


Join date

: 2015-07-24




Hai guise, I'm back with some progress.
I literally cannibalized my bank to buy 86 herblore. Was worth it though. Also, it's funny that in my last post I pondered the possible difficulty of getting smithing boosts. Twice I have needed a +5 boost and twice I've gotten one. In the first try

So now I had all the requirements to complete Varrock elites. Ta-dah!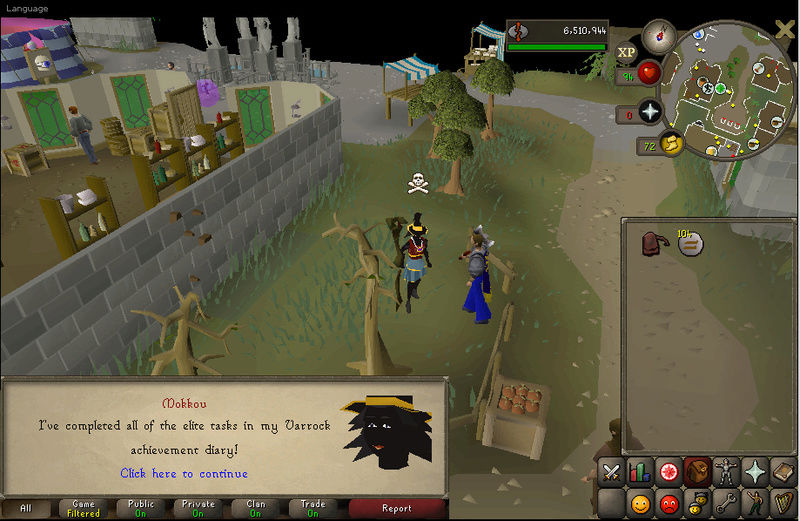 As you can see from the picture, I was quite close to a rc lvl. I decided to do some nats to get back some of that money lost on herblore and subsequently got this. These are really getting rarer and rarer.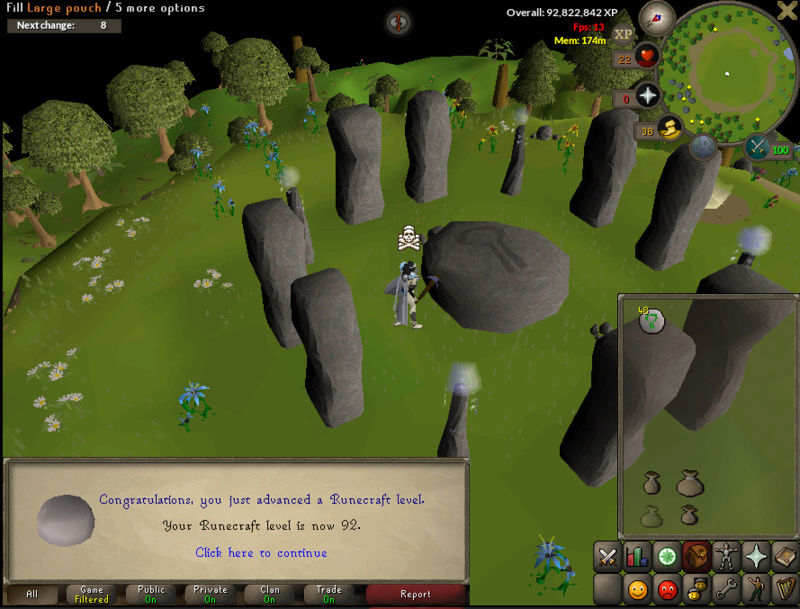 Oh and I managed to kill Kalphite Queen for the first time in my RS career. She was surprisingly easy to beat, so I did a few kills more. No head though

Anyway, I got this:
I will be travelling to Hong Kong for xmas and new year, so I won't be online for quite a while.
In the meantime, happy holidays to all in this wonderful clan and have a good year 2017! <3

Mokkou




Posts

: 11


Points

: 902


Reputation

: 0


Join date

: 2016-04-01




Great progress, goodluck! That runecrafting level is very nice indeed!

TheJorrit

Active Forum Member




Posts

: 81


Points

: 359


Reputation

: 4


Join date

: 2016-04-15





SwekSpek

$10+ Donor





Posts

: 193


Points

: 1321


Reputation

: 6


Age

: 21


Join date

: 2016-08-02




Gz on the progress

That rc level looks beautiful


Autocrat

Active Forum Member




Posts

: 81


Points

: 1444


Reputation

: 5


Age

: 22


Join date

: 2015-07-24




---
Permissions in this forum:
You
can
reply to topics in this forum